ComputerTalk's ice Contact Center Leads Among Competitors!
by Shaundalee Carvalho | Sep 26, 2022, 12:43 PM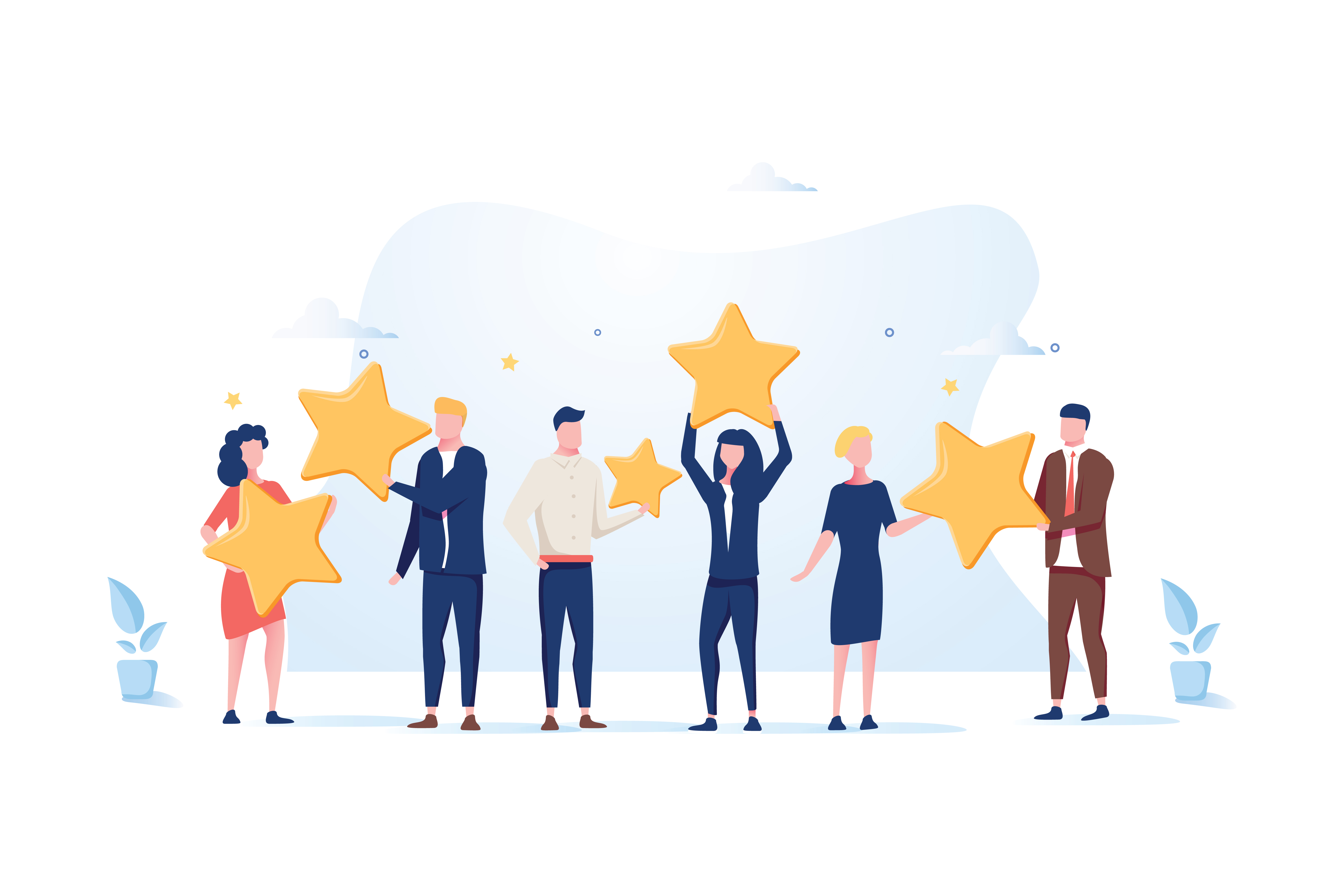 ComputerTalk is pleased to announce that we have been scored as a leader in numerous categories in InfoTech Research Group's SoftwareReviews this year.
Founded in 1997, Info-Tech Research Group is now the world's fastest-growing information technology research and advisory group. They serve over 30,000 IT professionals around the world, helping them to make well-informed strategic decisions through the production of unbiased and highly relevant research.
Info-Tech's latest division, SoftwareReviews, was officially launched in 2017. SoftwareReviews collects and analyzes detailed reviews from software users to provide a thorough understanding of products from the unbiased perspectives of the people who use them. They verify users and check each review for authenticity to maintain high-quality, reliable data.
SoftwareReviews' latest report, published in Spring, showed ComputerTalk's ice Contact Center to be a leader among its competitors in a variety of categories. Below are some of the key insights found in this report.
Key Insights:
ice Contact Center is a leader in customer satisfaction, outperforming competitors in capability satisfaction, feature satisfaction, and overall composite score.
ice Contact Center shows great strength and notable leads against competitors, especially in the areas of multi-channel intake integration, contact center analytics, ease of customization, and vendor support.
ice Contact Center was generally found to exceed expectations, over-delivering rather than over-promising, and significantly outperforming competitors in this category. Read on to learn more about how ice Contact Center's scores compared to our competitors.

Read on to learn more about how ice Contact Center's scores compared to our competitors.
Customer Satisfaction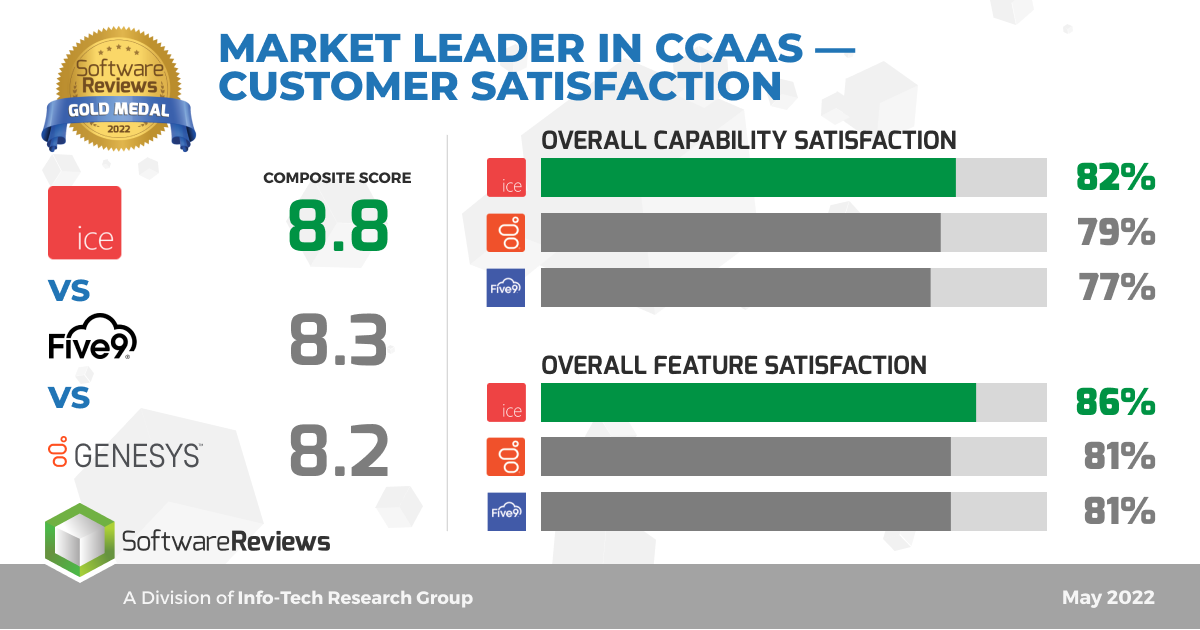 In the report, ComputerTalk's ice Contact Center was compared with other contact center vendors in the market in terms of customer satisfaction. ice Contact Center led with a score of 82% in overall capability satisfaction and 86% in overall feature satisfaction. It earned a composite score of 8.8, beating Five9's score of 8.3 and Genesys' score of 8.2.
ice Contact Center vs. Genesys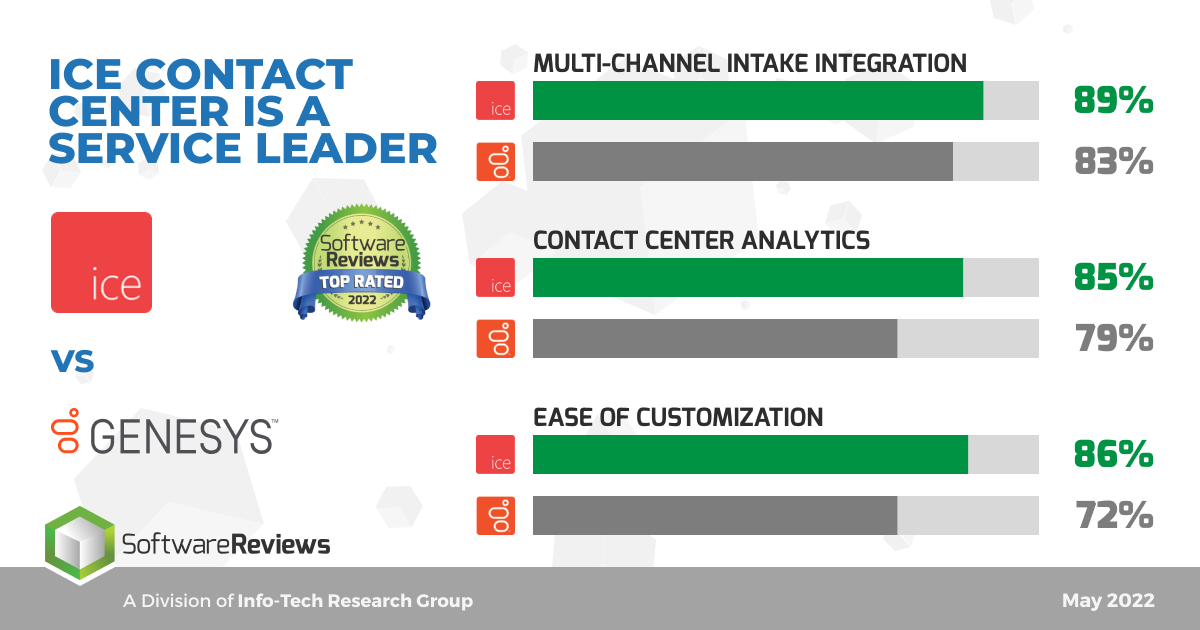 SoftwareReviews' report provided an in-depth analysis of ice Contact Center compared to specific individual competitors. One such comparison was against Genesys. End users scored ComputerTalk's ice Contact Center higher than Genesys in Multi-Channel Intake Integration, Contact Center Analytics, and Ease of Customization. In Multi-Channel Intake Integration, ice scored 89% against Genesys' 83%. ice earned 85% against Genesys' 79% in Contact Center Analytics. One of the largest differentials arose in Ease of Customization, where ice scored 86%, 14% higher than Genesys' 72%.
ice Contact Center vs. Five9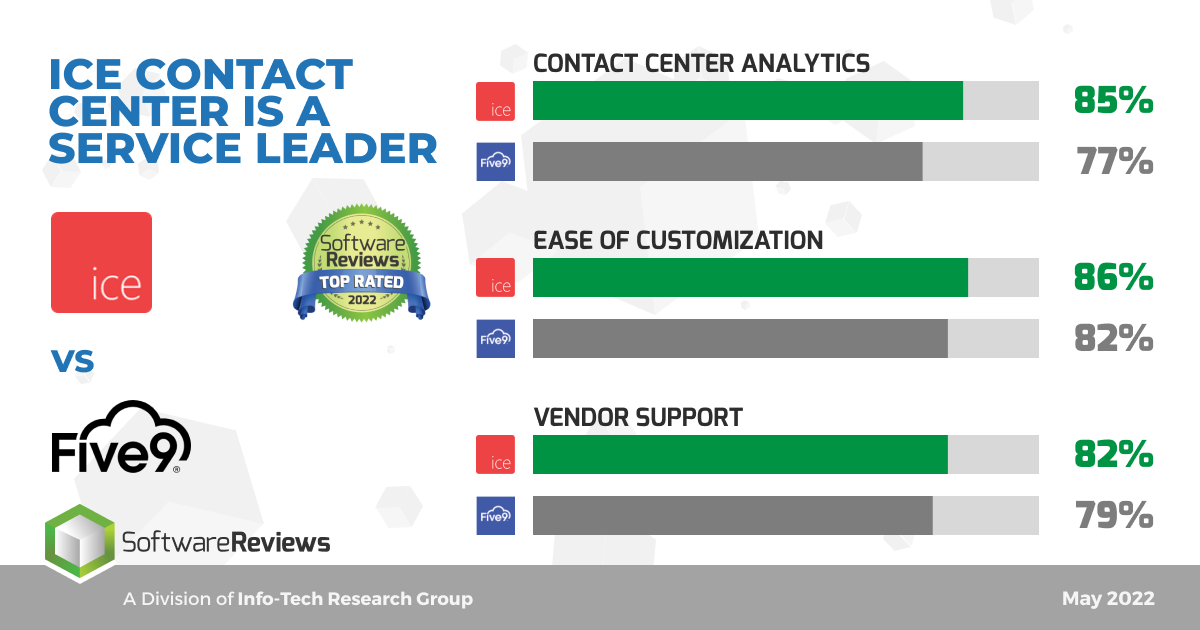 ice Contact Center was also analyzed in relation to Five9, leading, once again, in Contact Center Analytics and Ease of customization. Five9's Contact Center Analytics fell 8% behind ice's, with a score of 77%. Their Ease of Customization fell 4% behind with a score of 82%. Five9's Vendor Support was also scored lower than ice's, scoring 79% against ice's 82%.
ice Contact Center vs. Nice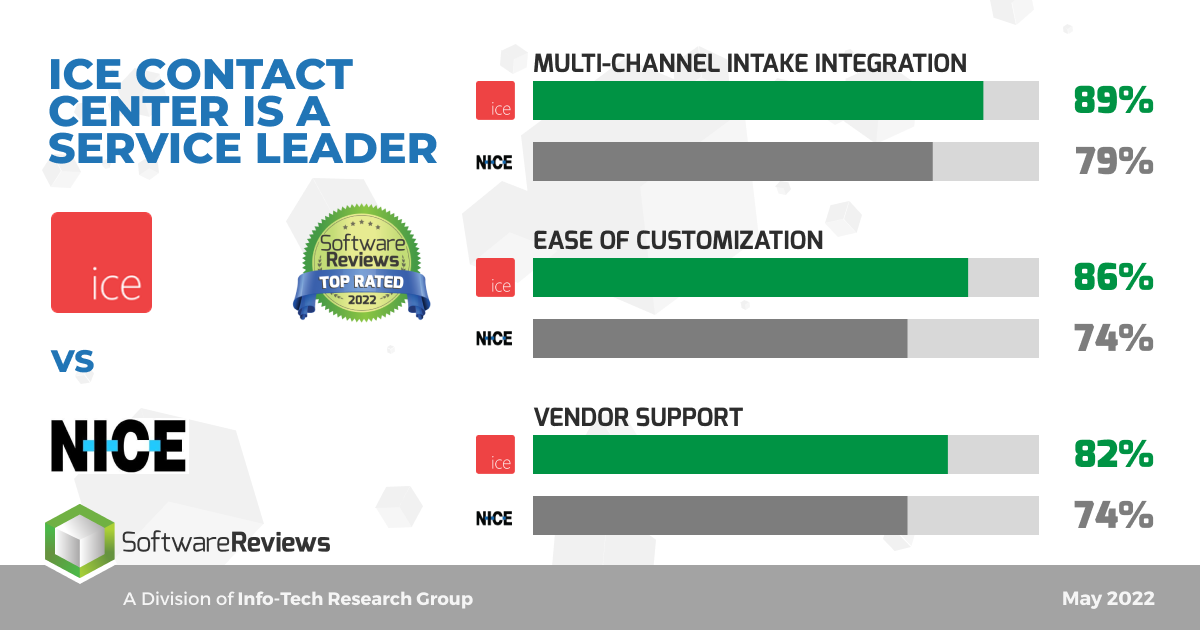 ice Contact Center's lead against its competitors was especially significant when compared to Nice. ice outperformed Nice's score of 79% by 10% in Multi-Channel Intake Integration. Nice's score of 74% in Ease of Customization fell 12% behind ice Contact Center's. Results were similar for Vendor Support, where Nice scored 74% against ice Contact Center's 82%.
Over Promised vs. Over Delivered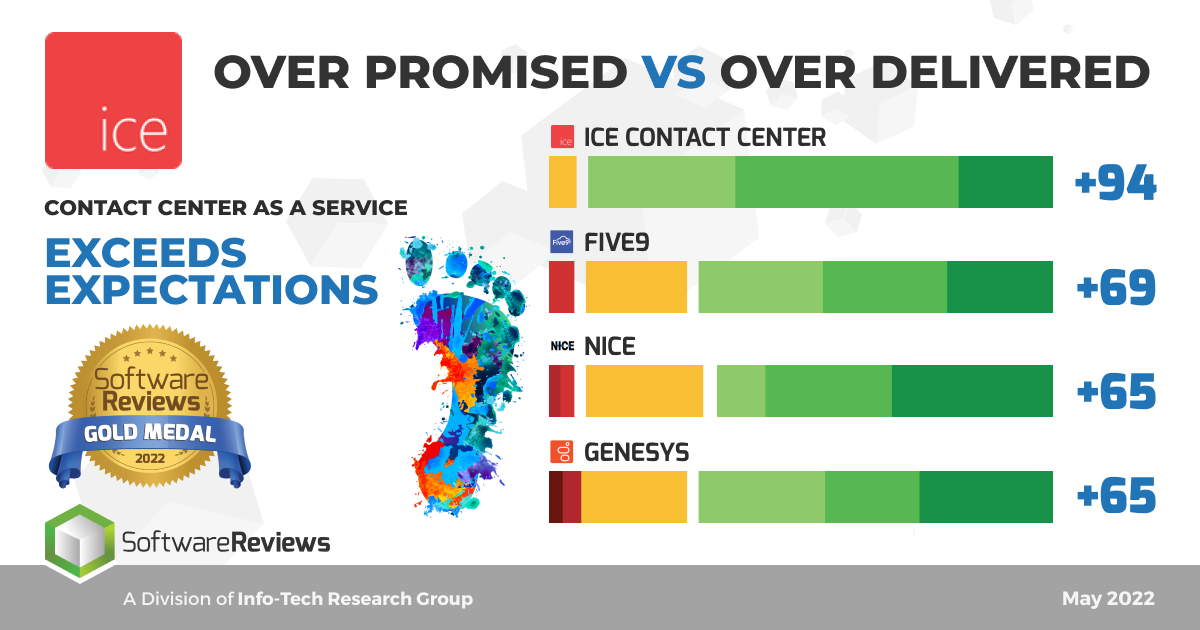 SoftwareReviews' report also evaluated different contact center vendors on whether they were over-promising or over-delivering. That is, they were scored based on how well they could deliver what they promised and whether they met and/or exceeded clients' expectations. ice Contact Center demonstrated a notable lead in this category, scoring 94 against Five9's score of 69 and the score of 65 earned by both Nice and Genesys.
To learn more about how ice Contact Center can demonstrate these strengths to help your organization, request a demo today!
Here's How ComputerTalk Outperformed Competitors in Customer Satisfaction!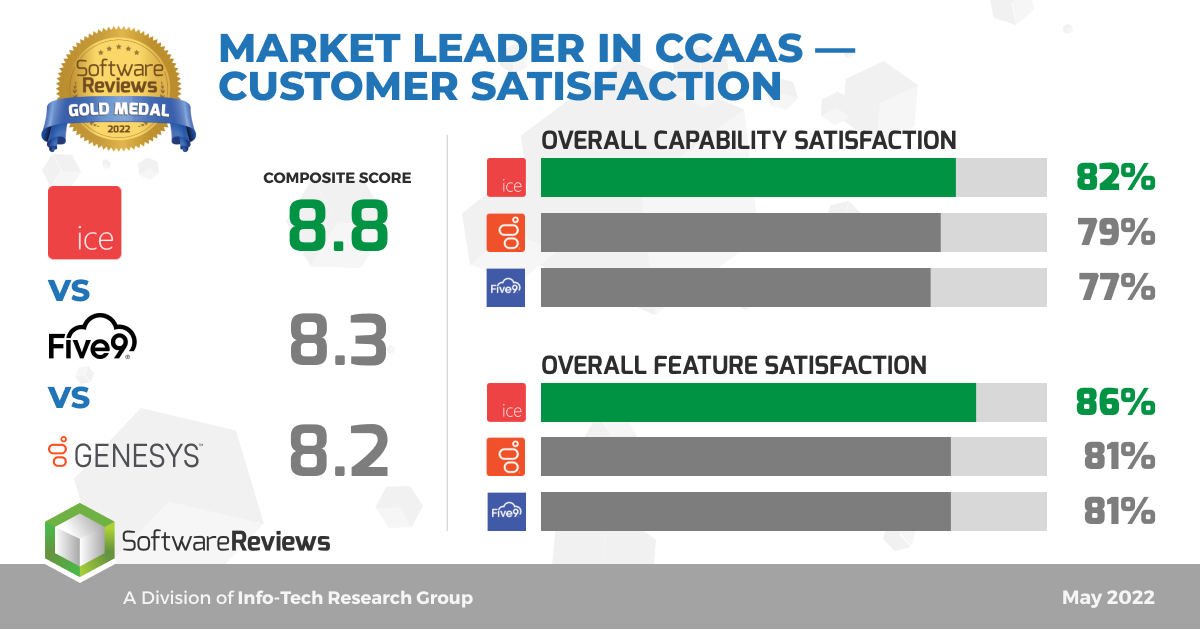 Last month, we shared on our blog that ComputerTalk's ice Contact Center achieved the highest level of customer satisfaction in Info-Tech research Group's SoftwareReviews. We outperformed competitors, like Genesys and Five9, both in capability and feature satisfaction, as well as...
Introducing ComputerTalk's NEW mobile app!
ComputerTalk has recently launched our iceChat mobile app. The iceChat app demonstrates ComputerTalk's iceMobile Connect capabilities by allowing you to connect to our Sales and Support teams or a self-service demo.
Slice of ice Recap: Navigating iceAdministrator Part 1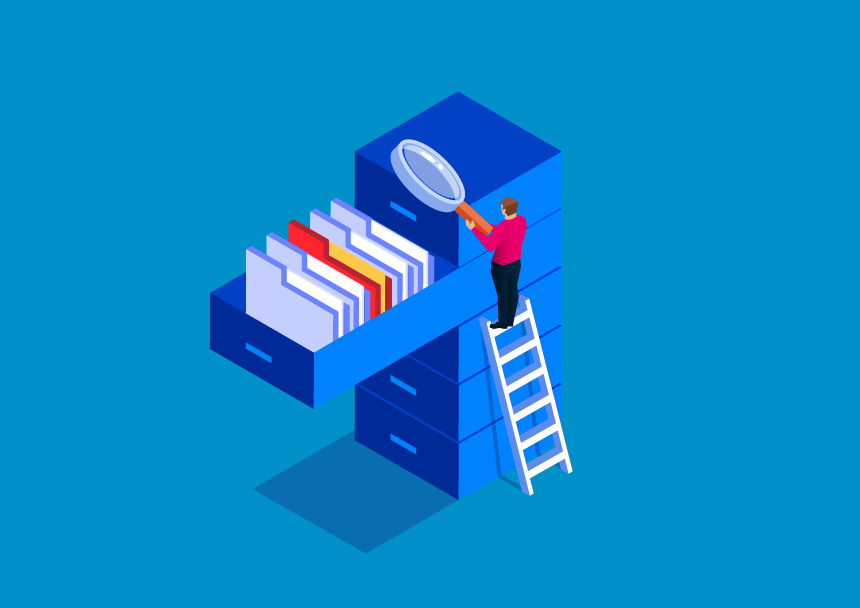 On Wednesday, September 16th, ComputerTalk presented the first of two Slice of ice (formerly Lunch and Learn) sessions devoted to navigating iceAdministrator. In this session, Training and Documentation Specialist, Kathika Uthayakumar provided an overview of iceAdministrator, discussed managing your contact...