ice Contact Center with Microsoft Teams
Seamlessly integrate with existing applications and bridge the gap from legacy infrastructure to Teams.
ice is a Teams native all-in-one cloud contact center platform.

Benefits of a Teams native contact center
Optimize Agent Efficiencies
Give users all the contact-handling controls and contextual interaction information they need within the Teams interface, saving time from using multiple pieces of software. ice users can handle all media interactions within the Teams interface, including calls and chats. They can even push reports to Teams channels for enhanced collaboration!

Enhance the Customer Experience
Agents can easily view the previous interaction history of the current contact they are handling as well as any open CRM tickets to quickly resolve customer issues.
Easily Enable Back Office User Capabilities
Expand the call handling functionality to subject matter experts throughout the organization. Enable a more digitally agile workforce to perform a mix of customer engagement and traditional back-office tasks during the day.
Quickly React to Service Metrics
Present actionable alerts from iceMonitor to a Teams channel on an adaptive card message. Users can quickly react to the alerts within Teams, resolving issues in an efficient manner.

Smooth Migration from Skype or Legacy PBXs
Seamlessly migrate contact center users from Skype for Business or any legacy PBX platform to Teams with ease! ice bridges the gap and users can migrate at their own pace with an interface they are familiar with.
Built with Decades of
Industry Experience
ComputerTalk has over 30 years of experience designing and supporting cloud enterprise-grade contact centers and a 15+ year strong relationship partnering and integrating with Microsoft.
Design a Solution to Meet Your Needs
WIth end-to-end consulting available, work with the ComputerTalk team to design a unique Teams contact center solution that meets your changing organizational requirements.
Microsoft Teams Connected Contact Center Certified
ComputerTalk is one of Microsoft's first partners to have completed the Microsoft Teams Connected Contact Center Certification Program. As a certified partner solution, ComputerTalk's showcases their decades-long commitment to strengthen ice Contact Center with Microsoft's cutting-edge technology.
With rigorous security and compliance testing, this certification ensures that ice is reliable, of high quality, and a compatible Microsoft solution that customers can trust. This provides an extra level of assurance that our certified partner solution was verified and tested to enhance our customer's effectiveness, efficiencies, and experience of their contact center.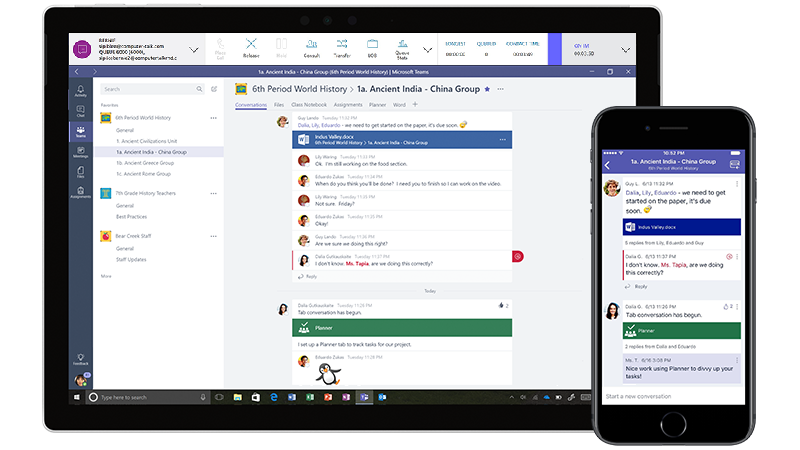 How we
help

customers
We brought in ice knowing we could connect with our CRM. Building something that truly integrated the CRM and contact center sounded nice in theory, but it is even better in practice.

- Crystal Goodwill
Administrative Assistant for Aftermarket Services at Magnetek
ice Contact Center for Microsoft Teams completely ties into email and everything Microsoft 365 offers. All the hooks for our entire ecosystem are there. Where before it was 3 or 4 systems you had to work around in, now it's all connected.

Randy Robbins, Director of Information Technology
Bob Barker Company
We're going from an environment where the phone would ring and everyone would look around to see if someone was going to answer it, or say "I'm working on something, can someone else get it?" to having the capabilities and visibility that our supervisor and tier 2 team can watch and step in and help as needed.

- Crystal Goodwill
Administrative Assistant for Aftermarket Services at Magnetek
ComputerTalk's infrastructure handled the election extremely well, as evidenced by our fully functional call center that had zero incident execution on polling day. I was able to track all calls and agents, and redirect calls to other queues or add queues when things picked up. Reports were generated so quickly - instantaneously - enabling us to monitor volumes and status at all times.

- John L. Hollins, Chief Election Officer
Elections Ontario