ice Contact Center with Microsoft Teams
Collaboration and communication.
All in one place.
Expand contact center functionality to subject matter experts in order to foster collaboration and transform your customer experiences.
Benefits of Teams
contact center
Teams built for group collaboration
Teams provides a new way of managing your contact center teams and groups. The tool allows you to host your team's complete knowledge base in one place. Collaboration is made effortless between users through the powerful chat interface. ice Contact Center is designed to make your contact center groups as efficient as possible, and Teams makes that easier than ever.

Seamless migration and multiple deployment scenarios
Take advantage of ice Contact Center's powerful functionalities using any combination of Microsoft Teams, Skype for Business, or PBX users with the ice tools operating the same regardless of the user's endpoints. You can even have users on different endpoints within the same queue. You don't have to be all or nothing – take your time moving users from Skype for Business to Teams. Users and administrators can continue to use the same tools they are familiar with, reducing training time for employees to learn new software. ice Contact Center continues to work regardless of your configuration and makes for a seamless upgrade from on-premises PBX or Skype for Business Online, to Teams.
Powerful business tool integrations, all in one place
ice Contact Center for Teams offers valuable business tool integrations to make work even easier. You can embed a webpage directly within a team, meaning that agents can view real-time iceMonitor information, or even pull reports from iceReporting. You can also embed your favorite Office 365 applications, including Word documents, Excel spreadsheets, OneNote documents, and PowerPoint presentations. Further to this, you can use data from ice server to build a Power BI dashboard, then embed it into Teams to view business intelligence reports. All of these integrations mean that you can have every productivity tool, including Office 365 apps and ice Contact Center modules in one place, enabling your contact center operations to become more efficient than ever before.
New ice capabilities with Microsoft Teams
New features in Teams will unlock never-before-seen capabilities of ice Contact Center that were not possible with Skype for Business. As this next-generation platform develops, ice becomes an even more powerful tool in enhancing customer experiences. Have the ability to present iceMonitor alerts directly within a Teams channel and publish iceReporting reports to a team for immediate viewing. Stay tuned, as more functionalities will become possible as the functionality of Microsoft Teams expands

Smooth
transition
Skype for Business Online is transitioning to Microsoft Teams. While it will take some time to achieve full feature parity, it is important to be prepared for this transition. ComputerTalk is fully prepared to support you through this process, as ice Contact Center will support all scenarios through the switch. When you are ready to make the transition, we are too, but if you intend to stay on Skype for Business Online for some time, we will continue to support this scenario. ice Contact Center continues to be the only enterprise-class, native solution. We know how important your customer communications are to your organization, so move at your own pace, with confidence.
Same
experience
Microsoft Teams will retain full feature parity with Skype for Business Online, while adding some new and exciting features. Your agents will continue to have all the features they are used to and depend on for day-to-day activities. The same goes for ice Contact Center. ice will provide the exact same experience as you are used to, including the look and feel. At the same time, we will be adding some powerful features made possible through Microsoft Teams. Our objective is to ensure that the learning curve for agents is minimal, to avoid disrupting your key operations.
Cloud communications
ice Contact Center delivers enterprise-class capabilities through the cloud. As a highly secure, reliable and scalable solution, the cloud enables your business process optimization. Combining ice and Teams in the cloud means that you can scale your contact center at a moment's notice, while forgetting about managing infrastructure or security. ice and Teams is the fastest way to bring your operations into the 21st century.
Familiar Teams experience.
ice Contact Center is developed as a Skype for Business native solution. As Skype for Business Online transitions to Teams, ice will maintain feature parity and user experience. The Teams engine will provide new features for agents, while ensuring that they continue to have the experience they are familiar with. As your agents make the switch, ice Contact Center will be ready to make the switch with them. Transition at your own pace!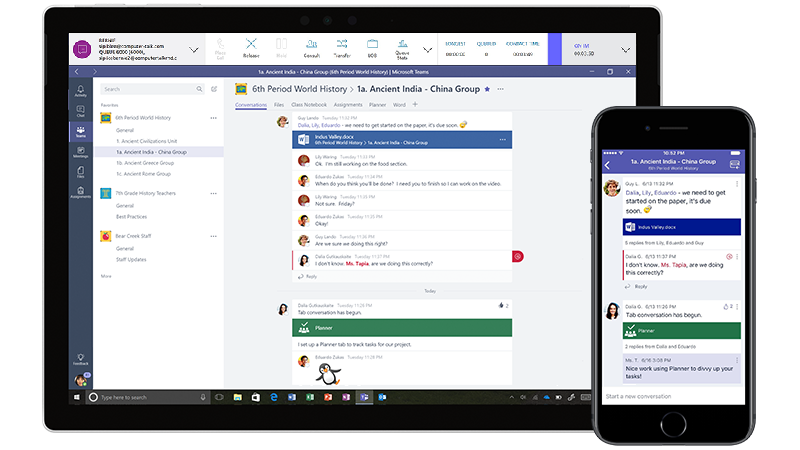 How we
help

customers
We brought in ice knowing we could connect with our CRM. Building something that truly integrated the CRM and contact center sounded nice in theory, but it is even better in practice.

- Crystal Goodwill
Administrative Assistant for Aftermarket Services at Magnetek
ice for Skype for Business completely ties into email and everything Office 365 offers. All the hooks for our entire ecosystem are there. Where before it was 3 or 4 systems you had to work around in, now it's all connected.

Randy Robbins, Director of Information Technology
Bob Barker Company
We're going from an environment where the phone would ring and everyone would look around to see if someone was going to answer it, or say "I'm working on something, can someone else get it?" to having the capabilities and visibility that our supervisor and tier 2 team can watch and step in and help as needed.

- Crystal Goodwill
Administrative Assistant for Aftermarket Services at Magnetek
ComputerTalk's infrastructure handled the election extremely well, as evidenced by our fully functional call center that had zero incident execution on polling day. I was able to track all calls and agents, and redirect calls to other queues or add queues when things picked up. Reports were generated so quickly - instantaneously - enabling us to monitor volumes and status at all times.

- John L. Hollins, Chief Election Officer
Elections Ontario