ice Contact Center Overview
ice modernizes the call center with business application integrations, AI, and analytics across all communication channels.
As an all-in-one solution, ice Contact Center provides your organization with the tools needed to enhance your customers' experiences. ComputerTalk will work with you to configure your ice solution to meet your changing organizational needs. Easily manage your contact center and connect with your customers anywhere, anytime.
&nbsp
Let customers contact your organization using their preferred communication channel.
ice Contact Center users can efficiently handle different methods of communication on one platform, helping them save time switching between multiple applications. Regardless of how customers reach you, ice can provide details of their interaction history. By examining the most recent communication exchanges, users can effectively and quickly equip themselves to respond to customers, saving time while increasing customer satisfaction and loyalty.
Voice
Connect with customers through the most traditional channel.
Contact center users can easily respond to inquiries using voice. By eliminating wait time between responses agents can quickly resolve customer problems using voice.
Email
Intelligently manage email exchanges with clients and prospects.
ice Contact Center helps users stay on top of email interactions and provide outstanding customer service to their clients. Increase the speed of responses with predefined automatic replies. Emails can be routed to users based on time of day, queue conditions, agent availability, or various other criteria.
Web Chat
Enable customers to reach you through your website.
Providing a web chat option directly from your website enables a quick and easy channel for your customers to reach you. Web chat is configurable to match your branding guidelines.
IM
Enable employees to reach your help desk through IM.
Improve employee experience by allowing them to easily reach your help desk through a new communication platform and increase agent productivity by handling multiple inquiries at once.
SMS
Easily connect with customers via SMS.
SMS messages are routed to users on Teams the same way as web chats, IM's, and social media interactions. Be proactive and send personalized outbound SMS messages. Whether it be appointment reminders, notifications, changes in schedules, or getting back to them about an inquiry, SMS is a convenient channel to reach your customers.
Social Media
Transform customer experiences by resolving customer frustrations on social media.
As social media becomes more prevalent in customer service, organizations need to have a way to monitor these channels and quickly respond to questions and comments. ice Contact Center easily integrates with various social media platforms such as Facebook, Twitter, WhatsApp, and more. Users can handle social media interactions without requiring specific social media platform training or access.
Stand apart from your competitors with quick, easy, and personal service.
Provide self-serve options for customers who don't want to talk to an agent and cut down on wait times when an agent is still required. Allow your customers to provide feedback so you can continuously improve and ensure agents have all relevant information to prevent customers from repeating information.
Interactive Voice Response (IVR)
Streamline your customer's journey and automate routine tasks.
Manage every step your customers take through your IVR, ensuring they find what they need. Automate routine inquiries for faster customer service and free up agents' time for more complex inquiries. Our IVR solution provides configurable menus, time out and invalid input prompts, speech auto attendant, and voice and DTMF digit collection values.
Mobile Connect
Embed chat functionality within your mobile app for a seamless communication experience.
Allow customers to reach your organization directly through your mobile app without switching to another communications application. iceMobile Connect enables you to add full chat functionality to your mobile application. Customers can interact with the contact center directly within your app, while contact center users receive the messages the same way they receive IMs.
iceSurvey
Design, test, publish, and analyze surveys to gain actionable insights and understand customers' needs.
Attract and retain customers by listening and understanding their needs. Create surveys for voice, IM, and email using simple browser-based tools. iceSurvey supports seven distinct styles of questions, including multiple-choice, ratings, and open-ended questions, so you can cater your questions to best fit your data-collecting objectives.
Integrations
Personalize customer experiences through application integrations.
Provide personalized customer experience with a CRM or ticketing integration. Automatically screen pop relevant customer information to your agents. This allows your agents to provide quick and accurate customer service. Customers no longer need to repeat information to multiple people.
iceBot
Provide quick service to customers with a conversational chatbot.
Deliver consistent customer experiences and save agents time from answering frequently asked questions. iceBot is a chatbot that prompts conversations and interactions with end-users. It allows you to respond to inquiries without needing a human on the other end.
You're the one behind the scenes, making sure that everything runs smoothly.
As an administrator, you may not be directly interacting with customers, but that doesn't mean you're not involved. From adding new users to routing interactions efficiently, you enable everyone else to do their job. But you need the right tools to enable you to do your job too. Fortunately, ice Contact Center's administrator tools can do just that.
iceAdministrator
Take complete control over teams, users, and queues.
Within iceAdministrator, add and remove users and queues and manage all the contact center administrative settings. Change settings on the fly to ensure your contact center operations are running smoothly.
iceWorkflow Designer
Design interaction workflows for all modalities using a powerful drag-and-drop graphical editor.
Easily design and change processes based on your evolving needs. Create custom applications that support your business requirements and integrate your collaboration and communication tools into one platform. Drag-and-drop icons make it easy to design simple functions like conditional routing and callback in queue or more complex applications like updating databases, pulling CRM packages, and speaking search results back to callers.
For Supervisors
and Managers
Leading a team of agents to deliver excellent customer experiences is no easy task.
Simplify contact center operations by taking advantage of the right tools.
iceBar
Assist agents by silent monitoring, coaching, or barging in.

iceBar is a contact handling toolbar that allows you to handle all interactions. It enables supervisors to listen in on users' calls for training purposes, coach agents when they need assistance, or barge in to talk directly to the customer. Choose from iceBar for Desktop, iceBar for Web, or iceBar for Teams.
iceMonitor
Real-time dashboard that gives you a view of the entire contact center.
Keep your contact center running smoothly by monitoring performance anytime, anywhere. Get real-time information about agent performance, queues, and interactions to manage your teams better. As a highly configurable dashboard, iceMonitor lets you see everything happening in your contact center at once. Custom alerts keep you apprised of the contact center's status.
iceJournal
View interaction history, recordings, transcripts, and evaluations.
Stay compliant with industry standards of recording retention and ensure contact center users are delivering the correct message. View interaction information such as duration, recordings, transcripts, survey results, contact info, and user data. iceJournal comes equipped with various filters and search options to find interactions quickly.
iceReporting
A versatile reporting tool that provides access to over 100 configurable reports.
iceReporting provides information on queues, users, teams, contacts, and more. Reports can be viewed immediately, printed, and scheduled to send to specific email addresses, equipping you with the data you need to make informed business decisions and effectively strategize for the future.
iceAlert
Automate outbound notifications to keep your clients informed.
Automate communication and keep customers informed by sending updated information and notifications. Reduce the number of employees required to send reminders and allow them to focus on other essential tasks.
icePay
Automate payment processing while providing secure end-to-end customer service.
As a Payment Card Industry (PCI) compliant service, icePay allows organizations to accept credit card payments without storing any sensitive cardholder data in your environment. By using icePay, your contact center can reduce costs and risks associated with the manual processing of credit card payments.
Evaluations
Identify proficiencies and gaps in contact center performance.
Evaluate contact center user interactions and provide feedback to help employees improve the way they deliver customer service. Easily create forms, view and download recorded interactions, and fill out evaluation forms at the office, remotely, or on the go. Assess and track user performance to improve your service quality and increase customer satisfaction.

As an agent interacting with customers directly, you're the face of your organization.
But you can't put your best face forward if you don't have the right tools to optimize your efforts. ice Contact Center provides the tools to optimize your work, even when things get hectic.
iceBar
Easily handle multiple interactions across different modalities.
iceBar increases visibility and simplifies data collection by allowing users to handle communications from all media channels. Users can view queue statistics, pick up queued contacts, enable recording, and input line of business codes. Choose from iceBar for Desktop, iceBar for Web, or iceBar for Teams.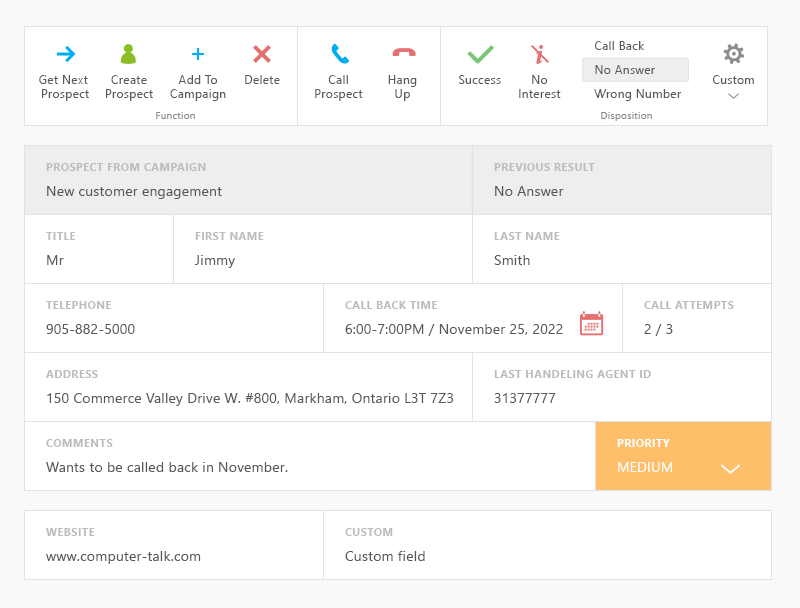 iceCampaign
Proactively manage outbound campaigns.
Organizations can no longer afford to wait for customers to call in and request information. They need to anticipate customers' requirements and keep them updated and informed. Manage all outbound contact center campaigns, including lead generation, promotions, and customer service campaigns.
Integrations
Integrate 3rd Party Applications for Personalized Customer Experiences.
Optimize your efficiency while providing personalized customer experiences with a CRM or ticketing integration. Receive a screen pop of all the information you need about a customer as soon as the interaction comes in. This saves you time from looking it up or having to ask the customer and keeps you informed of relevant context.
Discover why organizations are modernizing their call center with ice Contact Center
Connect today and let us show you how ice Contact Center can help your business.