iceMobile Connect
ComputerTalk's mobile application integration will help optimize your customer experience strategy.
Overcome customer frustration of getting hold with an agent. With iceMobile Connect, allow your customers to easily get in touch with your contact center.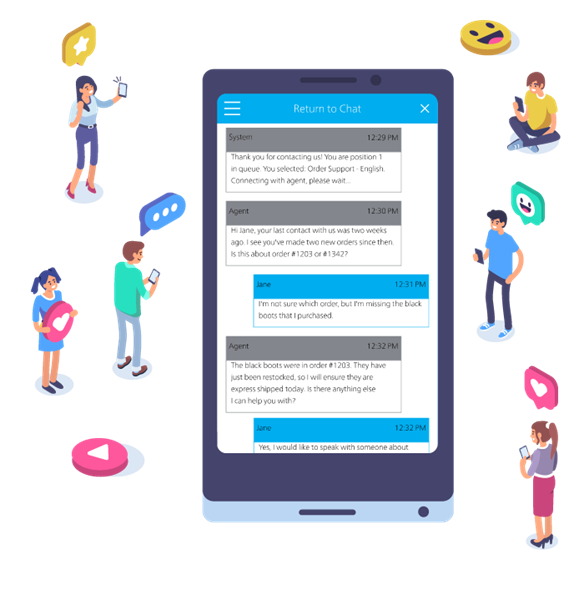 Reduce customer frustration by allowing them to reach you directly through your mobile app, without needing to switch to another communications app. iceMobile Connect enables you to add full web chat functionality to your mobile application. Customers can interact with the contact center directly from within your app, while agents receive the messages as Skype for Business IMs. iceMobile Connect passes customer information from the app to the contact center, equipping agents with the information they need to provide quick, accurate, and reliable customer service.
iceMobile Connect is a pre-built toolkit, designed to easily add instant messaging capabilities to any mobile application. The software development kit (SDK) is the link into your contact center, so that the mobile chat users can be queued into the contact center, enabling the same familiar routing, monitoring, and reporting capabilities.

Leverages mobile device capabilities to enrich the chat experience.
Take advantage of key capabilities including secure end-to-end communications, application backgrounding, push notifications, and conversation history. The experience is highly customizable and designed to run seamlessly within your mobile application.
Secure end-to-end communications so customers can confidently interact with the contact center.
Previous conversations are stored directly within the app, so customers can quickly and easily review interaction history, including date, time, and transcript
Customers can multitask while maintaining a conversation to the device, so that the user can return to the chat with the press of a single button.
By using iceWorkflow Designer routing and queuing, mobile users get the same, familiar ice experience that they expect across all devices.
Transcripts can be reviewed in-app or sent by email.
Link mobile app profiles to customer CRM profiles to screen pop contextual info and interaction history to your agents.
Familiar routing, monitoring, and reporting ice capabilities.