ice Contact Center for Skype for Business
Imagine

a world where customers can reach you from any device, on any channel, anywhere and anytime.
ice Contact Center is the world's only enterprise-class, Skype for Business native contact center.
Unify your customer experience across all touchpoints
Seamlessly switch between channels while contact center users continue using the same interfaces.
Make interactions
effortless
Let customers reach you in their preferred channel, on their preferred device, at their preferred time.
Engaging customer
conversations
Retain interaction history to resolve issues and inquiries quickly and efficiently.
Benefits of Skype for Business native contact center
Maximize the benefits Skype for Business brings to your organization by adding enterprise-class contact center capabilities.
ice can help simplify management and reduce costs associated with administering multiple environments.

As a Skype for Business native contact center, ice runs as a full member of the Skype for Business topology, so it can use your existing Skype for Business architecture, leveraging your current and future investments. For example, if you already have SIP trunking set up for Skype for Business, ice can take advantage of the same SIP trunks. In the same token, Skype for Business gateways, server pools, database clusters, and redundancy can also be utilized by ice.
Moreover, ice works with any PBX, meaning that you can deploy ice in a legacy PBX environment, and continue using it while you transition users to Skype for Business, Office 365, or Microsoft Teams.

ice Contact Center for Skype for Business extends the life of your existing PBX by adding new features. Deploy on what is most easy and convenient for you, based on your preferences, requirements, and infrastructure. ice is certified to connect to various legacy PBXs and IP-PBXs, such as Cisco and Avaya, so agents and supervisors can continue to use the same contact center tools they are familiar with in hybrid scenarios and migrations. This reduces training time for employees to learn new software, allowing them to focus on other important tasks.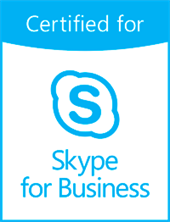 The certification indicates that ice has passed rigorous third party testing offered by Microsoft for Skype for Business solutions. ice is a native Skype for Business Contact Center platform that allows users to build communications workflows that connect users with the right subject matter experts. It is one of the first contact centers to receive this designation.
ice Contact Center for Skype for Business provides a true omnichannel experience by enabling customers to reach you on any channel.
Voice
Social
Video
Email
SMS
Chat
Apps
Bots
Let customers contact you using their preferred communication channel. ice Contact Center users can efficiently handle different methods of communication from one platform, helping them save time. Regardless of how customers reach you, users will be provided with details of their previous interaction history. By examining the most recent communication exchanges, users can effectively and quickly equip themselves to respond to customers, saving time while increasing customer satisfaction and loyalty.
ice Contact Center for Skype for Business comes packaged with dozens of pre-built connectors to your favorite platforms, including Dynamics 365, Salesforce, and common ticketing software. On top of the pre-built connectors, ice can integrate with nearly any platform, including your own homegrown software, using tailor-made connectors. These integrations help you provide personalized customer experience while optimizing agent efficiencies.
ice Contact Center supports any deployment scenario
Whatever your requirements, you can expect feature parity and the same powerful experience.
Cloud
On-premises
Hybrid
Hybrid deployments provide flexibility in where your technology is located, and how your services are delivered. If you use Skype for Business on-premises or Skype for Business/Teams in the cloud, ice Contact Center provides you with the same contact center experience.
Learn more about ice Contact Center
ice Contact Center is an all-in-one platform which offers seamless contact center operations and the ability to customize your contact center for industry-specific needs. Below are the contact center modules which form ice.
How we
help

customers
We brought in ice knowing we could connect with our CRM. Building something that truly integrated the CRM and contact center sounded nice in theory, but it is even better in practice.

- Crystal Goodwill
Administrative Assistant for Aftermarket Services at Magnetek
ice Contact Center for Microsoft Teams completely ties into email and everything Microsoft 365 offers. All the hooks for our entire ecosystem are there. Where before it was 3 or 4 systems you had to work around in, now it's all connected.

Randy Robbins, Director of Information Technology
Bob Barker Company
We're going from an environment where the phone would ring and everyone would look around to see if someone was going to answer it, or say "I'm working on something, can someone else get it?" to having the capabilities and visibility that our supervisor and tier 2 team can watch and step in and help as needed.

- Crystal Goodwill
Administrative Assistant for Aftermarket Services at Magnetek
ComputerTalk's infrastructure handled the election extremely well, as evidenced by our fully functional call center that had zero incident execution on polling day. I was able to track all calls and agents, and redirect calls to other queues or add queues when things picked up. Reports were generated so quickly - instantaneously - enabling us to monitor volumes and status at all times.

- John L. Hollins, Chief Election Officer
Elections Ontario